KING OF KINGS
After ten years out of the water, a trip to spearo paradise nets a couple of monster kingi's and reignites a lifetime passion.
Fish & yarns
After ten years out of the water, a trip to spearo paradise nets a couple of monster kingi's and reignites a lifetime passion.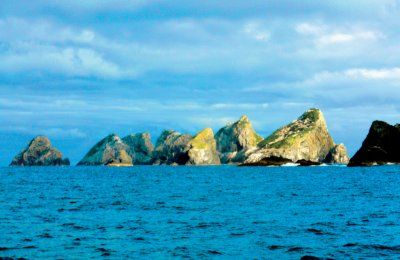 ABOVE: A terrific view of the majestic Three Kings, ehere Alwyn landed both giant kingfish.

The Three Kings charter was booked as a fishing trip in August last year, but come December, and New Year resolutions I set myself a new challenge. I decided to get back into spearfishing and as I am pushing 55, knew that it was now or never.
As I hadn't had a wet-suit on in the 10 years that I've been in NZ, I decided to do a refresher course to get up to speed! I found an article in a fishing magazine about a guy who had done a course through Ocean Hunter in Auckland and had increased his breath-hold from less than one minute to two and a half minutes. The challenge was on and I booked the first course available. With the enthusiasm and guidance of Fran Rose and crew, the journey began with a theoretical evening at Ocean Hunter, followed by two days of practical pool and lake training. I had never tested my breath holding time but guessed it at around one and a half minutes, so, when under instruction and guidance from Fran - I managed 4.43min at my first attempt in the pool, there was no stopping me.
But alas, the euphoria was short lived as when I got to do the lake dives I couldn't reach 6 metres. Fran arranged for me to meet up with an expert freediver, Philip Clayton, who was kind enough to spend time with me around the pool. Philip explained his difficult journey with ear problems and his ultimate success using the Frenzel technique to equalize, and I was once again rearing to go.
I did a couple of trips to Ocean Hunter where Blair and Mike never tired of me asking advice and customising my gear and getting me ready to land my first big kingfish here or abroad.


So we left Mangonui early Friday morning on 'Enchanter,' with skipper / owner Lance, and steamed up towards the Three Kings .We anchored overnight at Tombolin Bay after tagging and releasing three striped marlin. As I was the only spearo on board in our group of six, I arranged with the skipper to do a quick dive early next morning before fishing. We steamed to a point off the Princess Islands group, ( part of The Three Kings Islands) and I was dropped off at the skipper's special kingi spot - with a warning about keeping an eye out for sharks! That put paid to my diving support team of one man and whilst I was left in the water on my own, I was closely watched by my good friend Richard Wilcocks. Richard didn't t take his eyes off me the whole time I was in the water, and it was only for the fact that he didn't have a wet suit that fitted, that prevented him from joining me.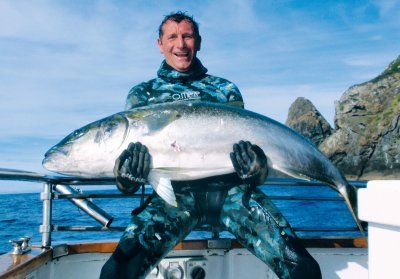 Alwyn with his monster 41kg kingfish

With the vis at about 25 metres, sheer vertical sides to the islands about 22m deep below the surface, bait-fish, mackerel, maomao, kahawai and trevally by the hundreds, I knew this was a dream in the making. I had hardly finished loading my gun when the first kingi slid up from the bottom through the shoal of mackerel and looked me over from about 6m away as if to say 'What the hell are you doing here?". As I lined him up and tried to calculate his size (estimated about 25kg), another group of some five kingfish came towards me and started to mill around checking me out. Down on the bottom at about 20m I saw another bigger kingi and as I breathed up and slid down to take a closer look - I could see more in the distance. This did nothing to slow my heart rate down, so I surfaced and made the decision not to shoot unless it really was a trophy fish! Immediately I became aware of all the fish around me and could actually see the whole food chain in operation; from the smallest bait fish to mackerel, maomao, trevally and kingfish, and just above the bottom some big hapuku or bass hanging motionless.


For the first time in a decade I felt one again with the ocean and realized what had brought me to exploring the ocean so many years ago at age ten, and what had brought me to this spot 45 years later.
I hardly had time to stretch out and relax when a movement slightly below me had my heart racing again as the biggest kingi I had ever seen came cruising along the bottom. I slid down and it lifted slightly and looked at me. I knew I'd have to plant a good shot as this was a huge fish! I took aim at the perfect spot just above the pectoral fin and wham! right on target. Twenty-five metres of bungy was gone in a flash as he dove straight for the bottom while I headed towards the surface, feeding out line as I went. I felt that it was a good holding shot and that if ever I had a chance to land a big fish - this was it! The crew at Ocean Hunter had me all set up with a short retrieval harness, and heavy-duty shark clips on my float meant that I could put pressure on the fish and let the float do the work.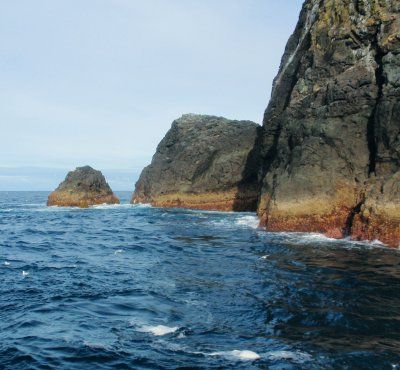 "We steamed to a point of the Princess islands group, which are part of The Three Kings Islands" and i was droped off at the skippers special Kingi spot.


Heart racing, breathing like a locomotive, the fight was on and "streetfighter" came to mind as I was put through my paces. It took a concerted effort to stay untangled, to slow down and retrieve my line foot by foot. It was with pure relief when, 15 minutes later, I dive down and take hold of the tail with one hand and my spear with other. I sense a movement from out of the corner of my mask, and I suddenly feel part of the food chain as a 2.5m bronze-whaler glides in for a meal of my now tired kingi. It's at this point that I realise that my gun is hanging off the float on the surface and all that I have between me and one hungry mother is my hard-fought-for kingi and the puniest little 'ik' knife on my belt.
NO WAY are you getting my fish! flashes through my mind as I turn and head for the surface dragging my fish, using a mixture of dolphin kick and some instinctive squid technique (air and water jet propulsion from the rear). But alas, the bronzie is too close for comfort so I let go of my prize fish who takes off in a final desperate spurt to evade the shark, as I head for the surface to retrieve my gun. Looking down I see the shark turning as he tries to take a bite of my now motionless kingi. I manage to pull the fish away from him once again and get the fish up closer, shouting through my snorkel exactly what I thought of him. He darts off and circles back to turn and take a bite but at the last moment I manage to pull my fish clear from him and retrieve another 5 metres of line before he's back again. I shout through my snorkel so hard that the guys on the boat hear me thirty metres away and come over just as the bronzie decides that maybe that other thing on the surface looks more appetising and starts to head my way. I suddenly realise I might have used up all my luck and decide to get out of there while I'm still ahead as I have yet to lay hands on my gun.


Let's just say, I left the water so fast that I had to grab the boat on the way down for fear of missing it. Eager hands pulled my hard fought kingi on board with only minor damage being done around the tail section and anal fin. Only then could I appreciate the size and start to enjoy the moment for what it was and a dream that had been realised. The skipper weighed it in at a solid 36kg, and then popped my bubble by saying that the Holy Grail was 40 kg. Yeah right!
We returned to fishing, with me feeling that the job wasn't really done. After discussing it with the rest of the crew, we convinced the skipper to bring me back the next morning - as he only allows one fish per spearo per day. This really impressed me as with so many good sized fish around, conservation is important. So first thing in the morning the skipper drops me off, with my promise to only bring a fish over 40kg on board.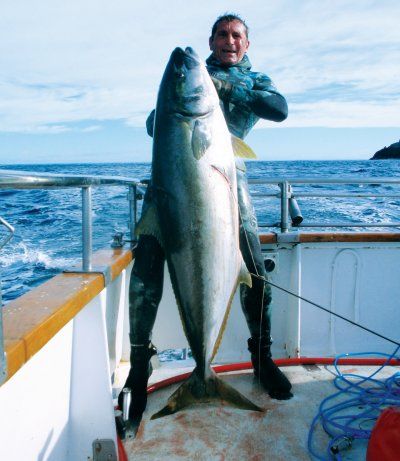 The younger of the kingfish brother, Alwyns 36kg kingi which he saved from a hungry bronzie.


Once again I am back in the wash loading up and with a concerted effort to keep my eyes within the confines of my mask and not to wear it like contact lenses. I peer around to see if the bronzie hasn't waited around to take revenge, but the beauty overrides all apprehension as once again I get lulled by the sheer diversity of marine life and slowly settle into working the edges of the islands. I have no doubt that there will be something bigger than yesterday, but at the same time I am just content to be so fortunate to be able to enjoy this vast unspoilt paradise that so many take for granted.
I pass up a few kingi's of around mid 20kgs, mixed in with smaller ones, and after 45 minutes start to wonder if some weren't bigger. A kingi swims below me on the bottom and as I fin down, I have no doubt that this is the one. I tack off at an angle as I head to the bottom, keeping him in my peripheral vision and see him turn to get a closer look. A slow turn, line up and whack! - all hell breaks loose. Once again, total confidence that the gear I have will do the job, me being the only weak link - but this time I'm not taking any chances, with fish in tow I beat him to the boat and clamber on board and, with help from Richard, I haul my fish in to admire my prize.

Street-fighter's bigger brother weighs in at 41 kg and I say a silent prayer that I could be so blessed to have achieved my goal less than 5 months after setting it. At the same time I concede that it would not have been possible without the dedicated support of some of the most passionate and helpful people I've had the pleasure to meet along the way, and the expert crew at Ocean Hunter who know what is needed to land that big fish when it eventually comes around and not lose it with inferior gear. Thank you to all - wishing you safe diving and tight bungees.
Cheers Alwyn